ニュース&トピックス
North and East Asia Regional Board Meeting: follow up
Dear Members of the North and East Asia Regional Board,
Hereby I am sending you the slides as a follow up of our meeting in Cape Town. If you can send us the name and representatives in your country/society that would be most appropriate to gather information about nephrology, we will prepare a survey and send this to that person.
I have also added a couple of information points on ISN activities:
1. ISN Programs :
You are "the eyes and ears" of ISN in your region, able to identify needs and priorities for training and education in nephrology. Our next ISN Programs application submission deadline is approaching: 1 MAY. Please relay the information and help people who need it most applying. All application information is available here
http://www.theisn.org/programs
2. Trainees can become member of ISN for FREE:
The role of regional boards is to help increase your regional presence within ISN. We also want to encourage the young generation to get involved. Trainees in nephrology, aged 37 and younger, are encouraged to apply for the FREE ISN In-Training Membership. In-Training Members receive all member benefits except print copies of Kidney International. Eligible individuals must submit a copy of a valid form of identification stating their date of birth as well as proof of their current training status. Click the following link for more information and to apply for In-Training Membership -
https://www.z2systems.com/np/clients/isn/survey.jsp?surveyId=13&
3. Affiliated societies:
At present, the affiliated societies of ISN in your region are listed here:
http://www.theisn.org/about-isn/partners-and-affiliates/affiliated-societies
We ask you to help us build our network and encourage other societies to join. Benefits of affiliated societies are as follows:
* Possibility to sign up for Collective Membership which entails signing up at least 75% of membership base for ISN membership at a reduced rate
* Priority consideration for organisating joint events (World Congresses, Nexus symposia) * Priority endorsement of special courses and/or events
* Announcement of courses and/or events through ISN media (Website, Newsletter, e-Updates).
Societies can apply here at the bottom of the page here:
http://www.theisn.org/about-isn/partners-and-affiliates/affiliated-societies
5. Events calendar:
ISN HQ has developed a calendar of events listing all ISN events, sponsored CME's and endorsed events. Affiliated Societies are also invited to post their events on our calendar. Please send us an email if your society wants to list a specific event that is not there yet.
http://www.theisn.org/events/calendar-of-events
With best regards,
Ariane Brusselmans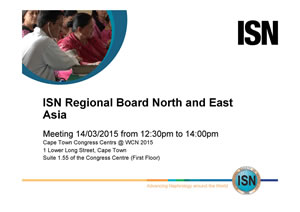 【資料PDFダウンロード】WCN2015NEABoardpresentation.pdf